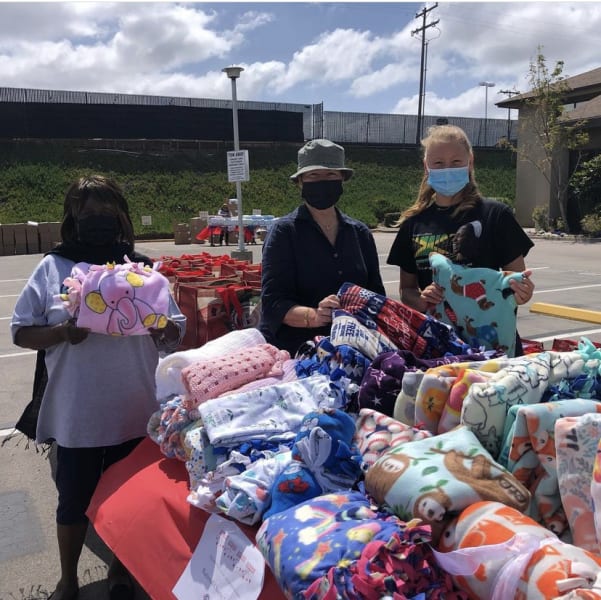 On May 22, 2021, Lincoln Military Housing (LMH) continued the tradition of co-sponsoring the annual Star-Spangled Babies Shower, an event organized and hosted by Operation Homefront. This year's event showered 100 new and expecting moms with essential baby gear, including bottles, diapers, and assorted clothing along with handmade items, nursery supplies, and more. The attendees received lunch for four people, dinner for four people, and LMH spa kits.
"LMH is honored to be a part of this event each year. We are proud to partner with Operation Homefront to celebrate new military parents. This opportunity allows us to show our support, provide resources, and connect with new mothers during this exciting time," said Cindy Farless, Regional Community Services Director, Southwest Navy Region.
In partnership with Operation Homefront and the San Diego Association of Realtors Ambassador's Foundation, this year's baby shower was held in a drive-through format to comply with social distancing requirements. In years past, the Star-Spangled Babies Shower was held in-person and featured interactive shower games, a luncheon with refreshments, and the chance for new military moms to get to know one another.
At this year's shower, moms-to-be were given many items that will be instrumental to welcoming their newest family members, including strollers and car seats. Each mom also received a goodie bag packed with diapers of all sizes, clothing, and other indispensable nursery items. Since 2016, LMH has partnered with Operation Homefront to provide these all-important supplies to new and growing military families. Year after year, the partnership and the event help to strengthen the relationship that LMH works to cultivate with military families. "LMH is so much more than just a property management company. We strive to act as a support system for military families and seek opportunities to partner such as this with Operation Homefront for our events," said Farless.
The San Diego event is a community effort made possible through the generous support of Lincoln Military Housing, Knockaround Sunglasses, the West Family, the Greater San Diego Association of Realtors, along with donations from The Jacobs & Cushman San Diego Food Bank and Diaper Bank, Thrive Causemetics, Kiinde, Walmart, Thirty-One Gifts, and United Through Reading. Members of the National Charity League, who have also donated handmade items for the families, and boys team charity, will be onsite as volunteers serving participating military families. DJ Prodigee, a combat veteran, will be onsite volunteering his services for music and entertainment as families drive through.