Every Mission Begins at Home
Liberty Military Housing


The Leading Provider of U.S. Military Housing

For over 20 years, Liberty Military Housing has welcomed service members and their families into comfortable, well-maintained homes on and near military installations across the United States. Our exemplary service, depth of knowledge about the military community, and personal experience with the military way of life have made us the recognized leader in military housing. We are proud of the award-winning communities we build and manage and continue looking ahead to new ways of serving military families, our team, and our partners.
Core Values


Making a Positive Impact

Liberty Military Housing is here to serve those who serve our country. Our team members bring a deep dedication and personal connection to our mission, our residents, and one another, resulting in an outstanding quality of life for the service members and their families who live in our communities. We work hard while always doing our best to embody the fundamental values that guide our decisions and actions.
"Great experience, All of the housing representatives are very professional. Big shout out to Issa Boshniak, she was handling my file, she was so helpful and took her time explaining the whole process from start to finish. Our house looked brand new when we moved in. New carpet, new flooring throughout the house and fresh paint. We submitted couple of trouble tickets and they were resolved and fixed the very next day. The maintenance people are very helpful as well! Thank you George one of the maintenance man who took the time to show and explain the ins and outs of the house. He even helped with the installation of washer and dryer. Highly recommend Bayview hills to anyone elegible. The waiting list might be long but well worth the wait! Thank you all for your professionalism!"
- Ralph T., Bayview Hills
September 27, 2022
"I met Jacqueline Burandt a year ago when I moved into Liberty Housing. I was extended and accepted the invitation to renew my lease and had the pleasure of working with her again. Jacqueline is very professional and shows her depth of knowledge of this military community. She was helpful in answering all my questions. She genuinely cares about the residents. Liberty housing is an amazing place to live. I feel very fortunate to live here. My home is beautiful, with an amazing landscape in a wonderful neighborhood and an ocean view a few blocks away. Jacqueline exemplifies excellence in the care she has shown me as a resident at Liberty Housing."
- Irene., Camp Pendleton 
September 17, 2022
"Our experience here has been amazing so far. It is very peaceful and quiet here. I like the fact that there is security prescience on a nightly basis. Also, everyone here has been absolutely amazing, from the people in the office, down to maintenance personnel. Thank you all for your hospitality thus far."
- Image B., Willoughby Bay
November 16, 2022
Our Commitment


Giving Back to Military Families

Military families face unique challenges posed by frequent moves and deployments. Liberty Military Housing helps make their often stressful lives easier by streamlining the house hunting and application process and providing stable, high-quality housing and supportive communities in prime locations on or close to military installations. Our personalized and caring service, along with unbeatable value and convenience, set us apart.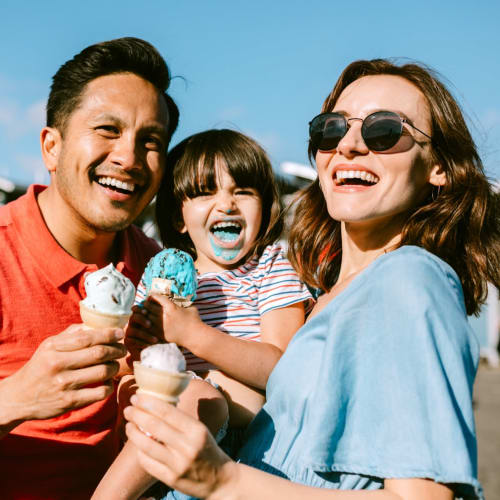 Personal & Professional Development


Take Ownership of Your Future

Liberty Military Housing is the first employee-owned military housing provider in the country and the largest in the multifamily industry. Liberty Military Housing is dedicated to helping our employee-owners develop personally and professionally and provides an unprecedented 150+ hours of professional development annually to each employee. We offer an array of opportunities to advance your career while supporting those who serve our country. With a blend of property management and military backgrounds, our team members bring a proactive, solution-oriented mindset to our mission, along with unparalleled levels of empathy and understanding for our residents and one another.
Supporting Readiness & Morale


Partnering With the Department of Defense

Since 2001, we have worked with our government partners to help uphold readiness and morale by ensuring military families live in homes and communities built and maintained to the highest standards. We collaborate closely with our partners across all branches of service and the Department of Defense to deliver superior housing, timely and responsive service, accountability, and value for money.
Welcome Home


Vibrant Communities Across the U.S