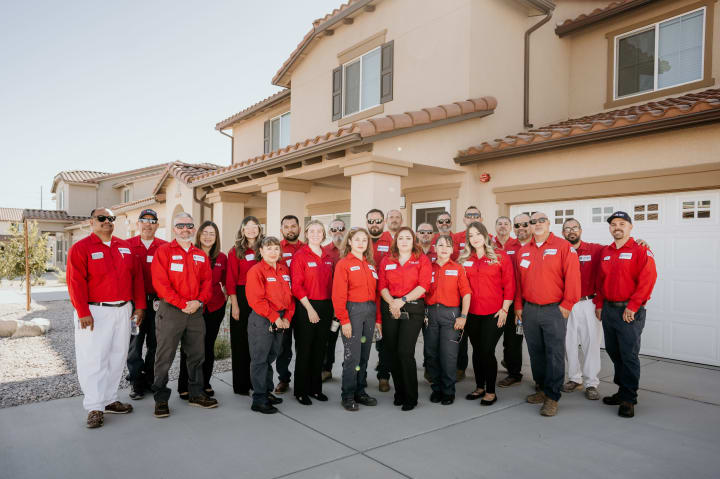 October 20, 2023 – (Yuma, Arizona) – Liberty Military Housing (Liberty), the first employee-owned military housing provider in the country and the largest in the multifamily industry, today celebrated the official grand opening of Sierra View, a $33+ million reinvestment and redevelopment project for the Capehart community. Located at the Marine Corps Air Station (MCAS) in Yuma, AZ, Sierra View is the most recent example of the success of the Military Housing Privatization Initiative (MHPI).
The MHPI has allowed private companies like Liberty that specialize in development and property management to work with the Armed Services to obtain nearly $30 billion in private sector funding to address the backlog of much needed renovations and replacement of military housing across the country. The funds were raised through privately placed bonds which are held by institutional lenders in the United States.
"The men and women in uniform who voluntarily serve our nation are our country's greatest example of Patriotism, and it is our duty to provide them and every member of their families with housing worthy of their sacrifice," stated Philip Rizzo, CEO of Liberty Military Housing. "Knowing that we are making a difference in the quality of life for the 60 families who live with us today, and the thousands who will occupy these homes for years to come is a great accomplishment for our partnership. I would like to thank Colonel Stone, the Commander here at MCAS Yuma, our construction partner Moss, and the myriad of Liberty, government, and MCAS Yuma contributors for all their hard work and support on this project"
The Sierra View project included demolishing and removing existing homes, repaving multiple streets, and relocating and updating above and below-ground utilities. Today's celebration marks the completion of nearly 24 months of hard work and partnership.
The Sierra View project features 60 new modern three and four-bedroom duplex homes. In addition to providing new homes on the base, Liberty also worked to ensure a complete supporting community for families, which features two pools, 22 playgrounds, dog parks, basketball courts, a clubhouse, and a fitness center.