Latia Parham, Community Services Coordinator at Liberty Military Housing, and her fellow team members pooled their resources to give five-year-old Max a terrific send-off on his Make a Wish trip to Disney World with his family.
Latia and her fellow Pax River team members immediately started making phone calls to coordinate a special send-off for Max and his family as they headed to Orlando. The team coordinated with the NAS base leadership, NAS Patuxent River Fire and Police departments, Navy Housing, and Foundation 4 Heroes to arrange for an extra special escort, including some of Max's favorite superheroes.
"Over the years, Foundation 4 Heroes has visited 1000s of children in hospitals, homes, and schools. Nothing is as exciting as being able to celebrate a child's victory over an Illness. We have known Max for several years, and we have brought gifts and inspiration to encourage him and bring joy, but the greatest gift is his full recovery. We were so pleased to be a part of his miracle," said Dr. Jay Lipoff, Foundation 4 Heroes founder.
Recently, Max's family notified LMH that Max is now cancer-free after battling through the last couple of years with a compromised immune system. What started as a thought that the team could go and wave Max off in his limo grew into an entire event. The team wanted to find some way outside the box to brighten the family's day and experience living with us. The team all felt Max's recovery warranted celebrating and is grateful that the Trader family allowed our team to be a part of such a wonderful occasion.
"When I found out Max had finally kicked cancer, I let out a sigh of relief that I didn't know I was holding in. I wanted to shout it from the rooftop with her [Max's mother]! I will admit his send-off to Disney was supposed to be pretty small, but after hearing more and more about Max, we got a little carried away," said Latia.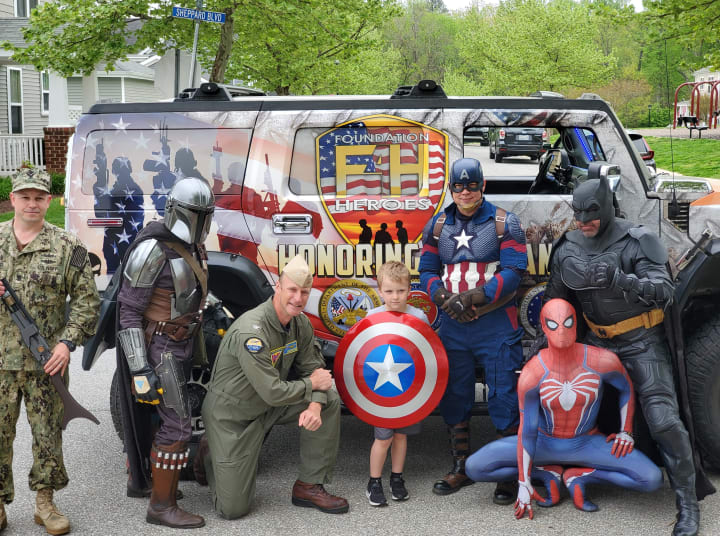 Hear more from Latia, Community Services Coordinator at Liberty Military Housing
"I have an exceptionally soft spot for our military families, as I was once in that position. I have the BEST role as an assigning CSR because I have the pleasure of making first contact and learning about the families through the leasing process.
I enjoy the responsibility of finding these families a home and finally meeting them at the finish line as they accept their keys. I did not have the pleasure of meeting the Trader family to move in, but I have worked with her over the years when she has stopped in the office or called in.
Mrs. Trader would always mention appointments and speak briefly about Max's diagnosis's different obstacles, and she NEVER complained.
In the leasing and maintenance office we always tried to make sure that we could accommodate the family as much as possible with their requests.
The only thing we fell short on was getting him a school bus because he has never ridden on one due to his illness and COVID-19. I am currently working on my CDL and looking to purchase a school bus just for MAX...(JUST KIDDING!)
In all seriousness, I appreciate the opportunity to work with our military families.
I would also like to give a special thank you to Sgt. Michael Andujar and the NAS Patuxent River Police Department, along with MWD Roki, for helping make it such a memorable event with their K9 demonstration. Also, our Navy housing director George Keene, arranged for the NAS Patuxent River Fire Department to escort the trader family off of the base."
"SUCH AN AMAZING EXPERIENCE!"
LMH recently interviewed Clare Zdziebko, District Manager, from Pax Team about this amazing experience.
How did you hear about Max's Make a Wish?
"Latia took a call from Mrs. Trader when Mrs. Trader needed to coordinate base access for the limo driver. We were, as a team, thrilled to hear that Max had been declared cancer-free; there was not a dry eye in the house."
Tell us a little more about how you coordinated all resource organizations.
"Tia took the lead and organized the whole thing; she reached out to Base Security to get them involved; she was Googleing online and found the Foundation 4 Heroes. Funny- Tia walked into my office saying, "Clare, I need Batman. Superman is not calling me back."
"My son plays on the same soccer team as Batman's son (Dr. Jay Lipoff- one of the founding partners of Foundation 4 Heroes). So I called him. As it turns out, they were already acquainted with the Trader Family, and they were delighted to come out for this event and will be happy to come out for any child in a similar circumstance."
Why did you feel drawn to helping this military family?
"Gosh, because they are our residents. The Traders have been through having a sick immunocompromised child through a worldwide pandemic. I can't imagine the stresses they must have felt. When LMH started entering homes again the Trader Family only trusted one of our Technicians to enter their home for work orders,, he installed their angel locks last summer instead of the construction team. (Roger McDonald)."
How do you connect creating this memory for this family and our mission?
"Our mission to provide exemplary service empowers our team members to go the extra mile for residents when we can."
Is there anything else you would like to share that you would like others to know about Max, his family, or any of the organizations involved?
"Foundation 4 Heroes is 100% volunteer. They deliver gifts and experiences to children dealing with terrible illnesses all over Maryland. They visit hospitals and events for children, and during Covid, they were making videos for them. Dr. Jay and his team spend their own money on their costumes and work their contacts to find donations they can deliver to kids. Many on his team are veterans."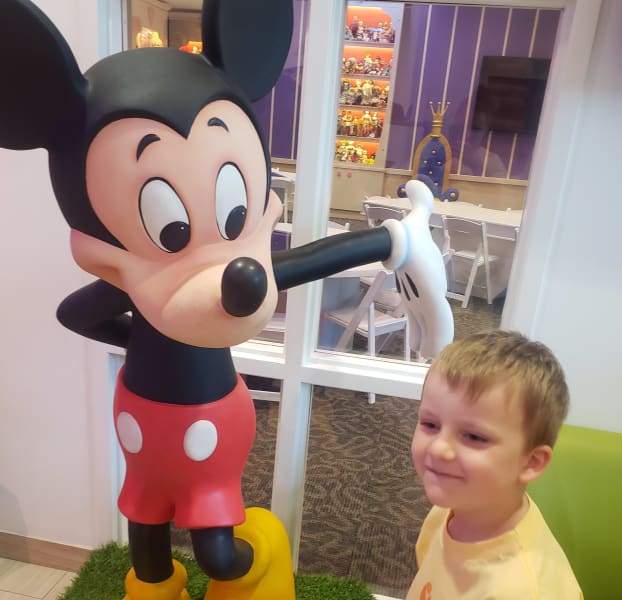 About the Foundation 4 Heroes
The Foundation 4 Heroes is a 501c.3 nonprofit organization that has had the opportunity to visit 1000s of children and Veterans over the years. Traveling to many communities and states, these superhero volunteers' mission is to bring gifts, inspiration and smiles to patients of all ages in hospitals, visit schools to teach children how to be a hero and about bullying and find ways to honor and thank Veterans for their courage, service and sacrifice. f4heroes.com
About Make a Wish Foundation
The mission of the Make-A-Wish Foundation is to create life-changing wishes for children with critical illnesses. The children we serve are fighting for their lives, and their families are doing everything that they can to help them in their battles. wish.org